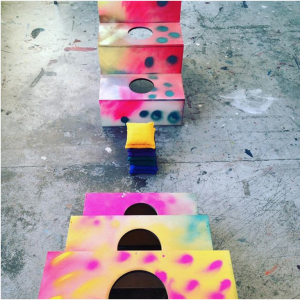 Stairwell's Mini-Field Trips
Common Grounds Arts Festival Family Day
San Francisco Chronicle Parking Lot (5th & Natoma), SOMA
Saturday, May 20, 2017, 11am – 4pm ***
FREE
Join Stairwell's at the Common Grounds Arts Festival Family Day, hosted by Intersection for the Arts, for hands-on activities and two newly-crafted mini-Field Trips! Each of these FREE one-hour walking tours will be led by Stairwell's Co-Director Carey Lin in collaboration with guest Field Trip leaders Raheleh Minoosh Zomorodinia and Gabriel Gilder.
Explore the SOMA neighborhood, write (and decode) secret messages, play interactive games and much more! Field Trips depart at 12:30 pm and 2:30 pm but we expect the spots to fill up fast, so stop by the festival early to sign-up if you'd like to come along. Curious about what happens on a Stairwell's Field Trip? Check out photos of some of our past walks.
*** Stair-themed craft activity and game available all day. Field Trip walking tours depart at 12:30 pm and 2:30 pm.
Join our mailing list and stay-up-to date on Stairwell's projects and programs.