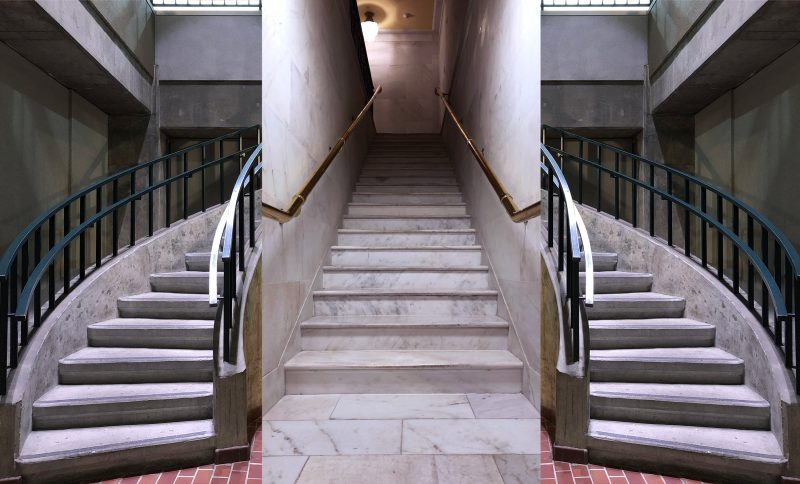 Keys to the City: Hyperart, City Hall and Baseball
A Stairwell's Field Trip for the San Francisco Art Commission
Tuesday, March 13, 2018, 6:30–8:30 PM
San Francisco's Civic Center Neighborhood
FREE with RSVP (space is limited)
Keys to the City is an interactive artist-led walking tour in San Francisco's Civic Center neighborhood that explores our evolving city and the unique connection between baseball and stairs. The Field Trip examines the built environment for evidence of adaptation to change and instances of "hyperart": defunct yet curiously maintained relics hiding in plain sight.
This 2-hour evening excursion includes indoor and outdoor stops, with games, facts, figures, and thematic snacks along the way. Participants will survey a wide range of stair specimens, create shadow portraits, and speculate together on architectural mysteries. Keys to the City: Hyperart, City Hall and Baseball is led by Carey Lin, Co-Founder and Director of Stairwell's, and Guest Field Trip Leader Gabriel Gilder.
This program is held in conjunction with the exhibition Fantasy Life by Tabitha Soren in SFAC's City Hall galleries.
Meet Your Field Trip Leaders:
Carey Lin is an artist, museum educator and Director of Stairwell's. She earned her M.F.A. at the University of Chicago and her B.A. from New College of Florida. Her studio practice is multidisciplinary–spanning painting, ceramics, installation and social practice. She has exhibited her work both locally and nationally, and attended artist residencies at the Wassaic Project, Wave Pool, Ox-Bow School of Art, Vermont Studio Center, and Irving Street Projects. Carey was formerly co-director of Oakland's Royal NoneSuch Gallery and assistant director of the arts nonprofit Southern Exposure. Born and raised in Florida, she has been living and working in the Bay Area since 2008.
Gabriel Gilder is a San Francisco-based composer and musician who also dabbles in sound and video art and graphic design. He attended UC Santa Cruz, where he earned a B.A. in studio art and electronic music. His band, Supervague, plays shows in the Bay Area and has released two EPs. Gabriel is a native San Franciscan and enjoys discovering odd corners of the city. This is his third collaboration with Stairwell's as a Guest Field Trip Leader.
Join the Stairwell's mailing list and stay-up-to date on Stairwell's projects and programs.