Exhibitions
Upcoming:
Stay tuned for more information about the next Stairwell's exhibition.
Past:
Curated by Dana Hemenway and Amy Cancelmo
September 12 – 26, 2015
Root Division
San Francisco, CA
With a curatorial focus on engagement and interaction, the value of artistic survival and shifts in the cultural landscape, Resonate celebrates Root Division, highlights the value, impact and depth of the organization's artistic community.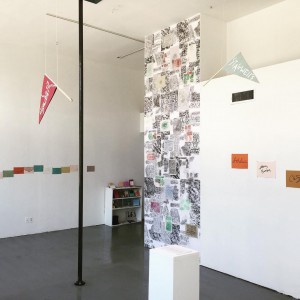 Stairwell's Art Space is Your Space Exhibition
August 1 – 22, 2015
Wave Pool
Cincinnati, OH
Documentation of our time in Cincinnati, with Field Trip flags, artworks created on the two walking tours in Eden Park and Mount Auburn, self-guided takeaways to replicate these events, a poem titled "The Decline of the Incline: An Elegy for Cincinnati's Inclined Plane Railways, 1872 – 1948," and a video of a past Stairwell's Field Trip in the North Berkeley Hills.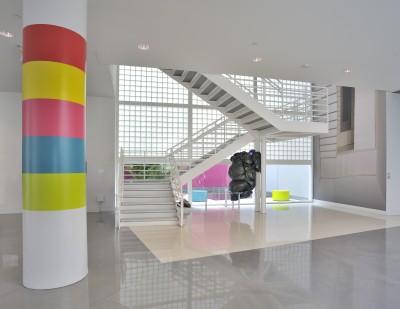 Featuring work by Amy M. Ho and Mike Rothfeld
July 18 – October 5, 2014
Yerba Buena Center for Arts
701 Mission St, San Francisco, CA
See pictures from the installation here.
Amy M. Ho and Mike Rothfeld create new site-specific work responding to the stairs leading from YBCA's Anteroom up to Gallery 3. The two artists' conceptual approaches to their practices are deeply considered, taking form in paper mâché sculptures, large-scale photographic installations, projections and transparencies. Amy M. Ho builds spatial installations using light, shadow and illusion, suggesting portals to places beyond our physical reality. Mike Rothfeld makes installations and objects influenced by science fiction and other genres, exploring how advancements in special effects have affected our ability to envision new futures. Utilizing both disruptive and subtle interventions into the YBCA architecture, their installations demonstrate how site affects the production and perception of art.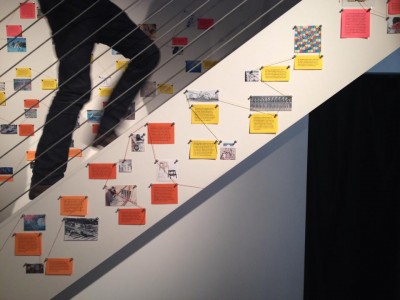 SURVIVAL ADAPTATIONS
Featuring work by Stairwell's founders/co-directors Sarah Hotchkiss & Carey Lin
July 4 – August 2, 2014
Aggregate Space Gallery
801 W. Grand Ave, Oakland, CA
See items from the timeline and images of the installation.
Root Division, in collaboration with Adobe Books Backroom Gallery & Aggregate Space, presents Survival Adaptations, a multi-venue exhibition exploring responses to the current economic climate of the Bay Area. Stairwell's contributes a timeline installation tracing our own history and the legacy of stairs as an artistic platform. From Jim Melchert's Location Project series in the 1970s to the recent Stairwell's Field Trip exploring quarries in Oakland's Rockridge neighborhood, the installation will point to the adaptability and creativity of artists, who find interesting ways of exploring even the most mundane objects and places. The two-part exhibition includes over 20 artists and collaboratives. For more information, visit rootdivision.org.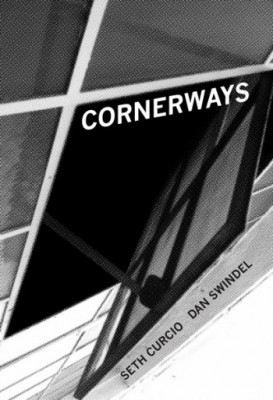 CORNERWAYS
New works by Seth Curcio & Dan Swindel
June 1 – 30, 2013
1050 47th Ave. Unit #6, Oakland, CA 94601
Opening reception (w/ potluck BBQ): Saturday, June 1, 12 – 5 PM
Also on view: Sunday, June 9, 12 – 5 PM
Closing reception: Sunday, June 30, 12 – 5 PM
See pictures from the installation.
Stairwell's is pleased to present CORNERWAYS, an exhibition of new site-specific works by artists Seth Curcio and Dan Swindel inside a live/work space in the Fruitvale neighborhood of Oakland. Curcio and Swindel respond to the architectural elements of the former warehouse with photographic and sculptural works that are installed under, above and on the stairs of Unit #6 of the Boise-Cascade Building.
For CORNERWAYS, Seth Curcio transposes multiple images into a complex 2D collage, altering the angle of perception to the horizontal plane of the stair step. The piece expands on Curcio's interest in 'hard-to-see things and places,' a category that includes the bottom of the ocean, distant icebergs, video game landscapes and most recently, caves. Trained as a photographer, Dan Swindel creates sculptures that transcend the flatness of the photographic plane with folded geometric shapes. Expanding on his library of materials for CORNERWAYS, Swindel's hard-edged and reflective pieces mirror the edges and corners of the space itself.
Coinciding with the exhibition, Stairwell's will publish its fourth Takeaway publication, printed by Colpa Press and featuring writing by Stacy Martin, Zoë Taleporos, Carey Lin and Sarah Hotchkiss. CORNERWAYS opens on Saturday, June 1, with a reception and potluck BBQ, 12 – 5 PM. The exhibition will also be on view June 9, 12 – 5 PM, with a closing reception on June 30, 12 – 5 PM.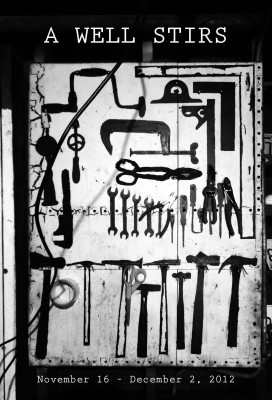 A WELL STIRS
New works by Aaron Finnis, Christine M. Peterson & Emma Spertus
November 16 – Dec 2, 2012
Opening reception: Friday, November 16, 6 – 9 PM
Artist talk: Thursday, November 29, 7 PM
On view: Thursdays*, Saturdays & Sundays, 11 AM – 4 PM (excluding November 22)
8 Samoset Street
San Francisco, CA
See pictures from the opening reception.
A WELL STIRS extends the bounds of a stairwell in a domestic setting atop Bernal Hill. Using projected light and architectural illusion, these new site-specific works occupy the stairs as well as the spaces the stairs connect.
Aaron Finnis transposes a view of San Francisco from a vantage point beyond the exhibition site. Working with photographic imagery and computer tape, he reframes the view within a set of parameters dictated by the upstairs installation space. In the darkened garage, Christine M. Peterson highlights the underside of the house's stairs by tracing its structural edges with reflective tape. An accompanying slide projection abstractly mimics the movement of ascending and descending stairs, with each slide representing a step. Emma Spertus expands upon and confounds the architectural elements of the stairwell and its domestic fixtures through a series of photographic reproductions and interventions. As part of her piece, Spertus provides a free poster to be given away during the span of the exhibition.
A WELL STIRS is accompanied by a takeaway publication featuring new writing by Tom Comitta, Dana Goldberg, Kayla Graham and Susannah Magers.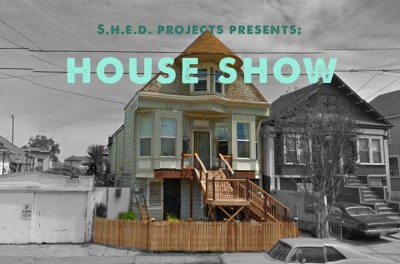 Stairwell's co-curates "House Show"
New site-specific installations by Emily Gable & Calder Yates
August 4 – 17, 2012
See pictures from the opening.
Departing from typical stair settings for House Show, Stairwell's invited artists Emily Gable and Calder Yates to create new site-specific works in two areas of the house. In the street-facing bedroom just inside the front door, Gable created an installation within and around a wall's exposed 2-by-4s. At the rear of the house, Yates constructed a viewer-activated experience in the glass window box over the kitchen sink.
Gable's piece explores notions of gravity using materials found on the property. Expanding on themes in her current work, muslin bags were filled with soil from the unfinished ground floor of the house and placed in the bedroom, unifying the interior and exterior of the exhibition site. Yates uses household items and the element of surprise to create a precarious and disruptive situation within this highly domestic space. The work treads a thin line between light-hearted playfulness and unexpected aggression.
Both artists contradict our expectations for the home environment. Gable's soil, an unwanted byproduct of laying a new foundation for the house, is incongruous with the home's meticulous craftsmanship when brought indoors. At the kitchen sink, Yates threatens to break the tenuous boundary between kitchen and garden, shelter and exposure.
Stairwell's is a curatorial project by Sarah Hotchkiss and Carey Lin aimed at providing opportunities for artists to create new site-specific work in unexpected or underused spaces. House Show is a welcome expansion on the project's goal to create new models for local audiences to engage with art beyond traditional gallery settings.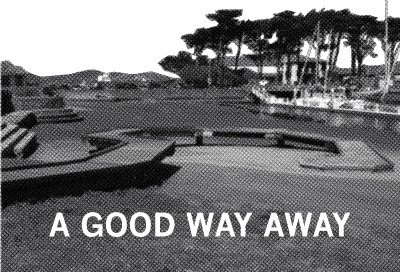 A GOOD WAY AWAY
New works by Matt Kennedy, Noah Krell, and Collin McKelvey
July 13, 2012, 6 – 9 PM
Carville Annex
4037 Judah Street
San Francisco, CA
See pictures of the exhibition.
A GOOD WAY AWAY, the second Stairwell's exhibition, features new site-specific works by three artists exploring the Carville Annex, the Outer Sunset, and varying notions of distance. Matt Kennedy places himself in a humorous struggle for physical achievement, making a personal challenge public. Noah Krell meditates on the ubiquity of sand and considers its steady eastward movement from Ocean Beach into the city. Collin McKelvey manipulates locally-gathered sounds and smells and documents the downward momentum of stairs from a unique perspective.
In conjunction with the exhibition, a free takeaway publication includes essays by six Bay Area writers: Marion Anthonisen, Michael Flannery, Emily Gable, Stacy Martin, Michael Rothfeld, and Taylor Wiles.
Stairwell's is a curatorial project by Sarah Hotchkiss and Carey Lin, supported by a 2011 Alternative Exposure grant from Southern Exposure. A GOOD WAY AWAY is hosted by the Carville Annex, home to artists' studios and lecture-based programming. The Carville Annex is run by Sarah Fontaine, Alexis Petty, Katherine Fontaine and Lana Porcello.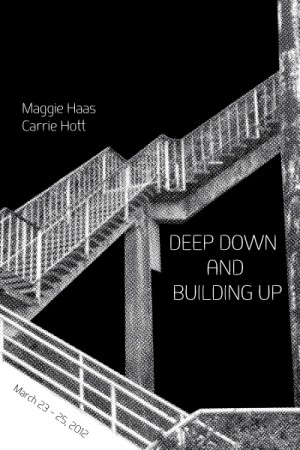 DEEP DOWN AND BUILDING UP
New works by Maggie Haas & Carrie Hott
Opening reception: Friday, March 23, 2012, 6 – 8 PM
On view: March 24 & 25, 2012, 12 – 5 PM
Noonan Building
Pier 70 (Third Street @ 20th Street)
San Francisco, CA
See pictures of the exhibition.
DEEP DOWN AND BUILDING UP, the inaugural exhibition of the curatorial project Stairwell's, showcases new site-specific works by artists Maggie Haas and Carrie Hott. Through sculpture, drawing, and installation, Haas and Hott expand upon their individual practices within the shared space of a stairwell in Pier's 70 Noonan building. Their works address material accumulation, the measurement of spaces real and imagined, and the stairwell as a space in which we both move and rest.
Stairwell's is a project by Sarah Hotchkiss and Carey Lin, supported by a 2011 Alternative Exposure grant from Southern Exposure. Over the next year, Stairwell's will mount short-term temporary exhibitions throughout the Bay Area. The first site is a former shipyard office built in 1941 now housing studios for artists, musicians, filmmakers, and designers in San Francisco's historic Dogpatch neighborhood. In addition to temporary exhibitions, Stairwell's programming also includes off-site excursions around the Bay Area and short takeaway publications, the first of which will feature contributions from local curators Aaron Harbour and Jackie Im.