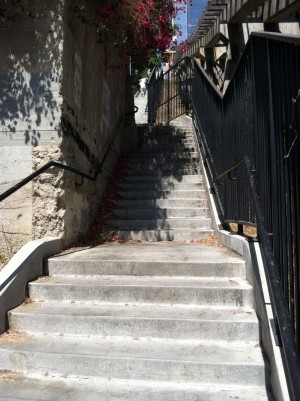 A short time ago, I spent a weekend in Los Angeles, visiting my parents and celebrating a friend's inclusion in a great group show at the Highland Park gallery Public Fiction. On Sunday, before a long drive back up the 5, I wandered around downtown LA on the lookout for stairs and found myself at the foot of Angels Flight, proud claimant to the superlative "World's Shortest Railway."
Ascending Bunker Hill 298 feet at a 33-percent grade, Angels Flight is a two-car funicular that began operating in 1901. Originally developed in the 1860s as an opulent and desirable spot with sweeping views of the city, the hilltop was home to Victorian mansions and those who could afford to dwell in them. By 1955, however, freeway expansion and urban crowding had drawn wealthy Angelenos to areas like Pasadena. Bunker Hill was declared a slum, and a community of nearly 22,000 working-class families was evicted, their rented rooms in the now run-down Victorian buildings flattened or relocated, and a new downtown slowly emerged. Read: skyscrapers. Read: office buildings. Angels Flight was dismantled and placed in storage for 27 years.
In 1997 it reopened half a block from its original location. It was re-closed in 2001 after a fatal accident and reopened once again in 2010. A one-way ride on one of the two cars ("Sinai" and "Olivet") costs 50 cents. Running alongside the railway is a steep flight of stairs for those of us without 50 cents in their pockets, or those of us with a desire to stretch their legs in a city where walking is a rare activity.
Very much a part of the history of Los Angeles, Angels Flight has been witness to changes in fortune, demographics, landscape, and architecture. With a cheery rumble, the funicular carries on its 111-year role as a vehicle of ascent and descent, ping-ponging between its destinations, remaining isolated from the contemporary city in a different day and age. (SH)