Step Up and Support Stairwell's!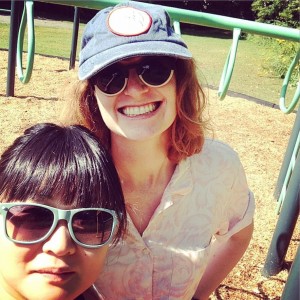 We started Stairwell's in 2011 to creates new experiences that challenge familiar understandings of our everyday surroundings. Through site-specific exhibitions and group walking tours called 'Field Trips,' we seek to foster temporary communities of curious and engaged individuals, providing opportunities for connections and changes in perspective.
If any of the above matters to you, make a tax-deductible donation through our fiscal sponsor Intersection for the Arts and help us continue to reinvent what Stairwell's is and can be.
Thanks for your support.
Looking forward,
Sarah Hotchkiss and Carey Lin
Co-Directors, Stairwell's
2015 Stairwell's Supporters:
Chris Adler, Anonymous (x 6), Luca Antonucci, AttaBoy Studios, Elizabeth Bernstein, William Bostwick, Vince & Andi Cesare, Christy Chan, Abby Chen, Candice Cui, Seth Curcio, Mark Dejong, Adam Delehanty, Laurie Elachi, Kristin Farr, Aimee Friberg, Lindsay Fullemann-Tully, Jeanne Gerrity, Rebekah Goldstein, Matthew Gualco, Lauren Hartman, Lacey Haslam, Taraneh Hemami, Dana Hemenway, Summer Hirtzel, Amy M. Ho, Carrie Hott, Will Hutnick, Kelly Inouye, Kevin Jones, David Kasprzak, Sarah Kimmerle, Claire LaRose, Robert Leland, Chi Lin, Cybele Lyle, Phillip Maisel, Kari Marboe, Lisa Martin, Yo Ann Martinez, Bruna Massadas, Alex Matson, Sean McFarland, Olivia Mole, Jasmine Moorhead, Daniel Morgan, Ranu Mukherjee, Daniel Nevers, Abner Nolan, George Pfau & Hannah Ireland, Joe Posner & Amy Piller, Megan Pugh, Ethan Rafal, Paul Rauschelbach, Melissa Rees, Christopher Reiger, Kate Rhoades, Mike Rothfeld, Jessi Rymill, David Sandoval, Tamra Segall, Roula Seikaly, Jessica Shaefer, Dimitra Skandali, Nick Swartsell, Zoe Taleporos, Lauren Taylor, Phoebe Tooke, Judy Tuan, Brenda Tucker, James Tucker, Chloe Veltman, Jackie von Treskow, Lexa Walsh, Maysoun Wazwaz, Emma Webster, Brooke Westfall, Hillary Wiedemann, Calder Yates, Tanya Zimbardo

We are a Member of Intersection for the Arts. Intersection provides resources, community and cultural space in order to contribute to the sustainable practices of artists and arts organizations the San Francisco Bay Area. Visit www.theintersection.org.